Manufacturing Lifesaving Vaccines
The Fill & Finish Facility for Live Viral Vaccines is a multi-product plant designed and built to manage the formulation, filling, lyophilisation, inspection, packaging and storage of several live attenuated viruses with complex, fragile structures and high value. The multi-product BSL2 facility has high biosafety and containment demands and required aseptic processing conditions.
The facility has two functions. It manufactures the clinical and commercial portfolio of Bavarian Nordic's vaccines, with the capability and flexibility for extremely rapid turnaround between products. It also can operate as a CMO for other similar high-value products. It has the capacity for 40 million doses p/a of liquid frozen products and 8 million doses p/a of freeze-dried products. The critical manufacturing capabilities make this project an essential part of the supply chain and a key asset for the future manufacturing of Bavarian Nordic's vaccines.
The Rallying Cry
There is an old African proverb that reads, "If you want to go fast, go alone. If you want to go far, go together". At the outset of this project, business pressures dictated the project required an incredibly unique methodology to succeed with a massive focus on schedule. It was clear that the team needed to adopt a modified form of this proverb. To go both fast and far, they needed to create a unique project execution approach and team environment.
This challenge was discussed in detail by a small team at the outset. It led to an approach which focused on the need to be lean, uses adaptations of tried and tested methodologies, and have the collective team trust to create the best project outcome.
To work as a truly integrated team, they relied on one another's strengths, collectively challenging the best value approach at all stages, and reaching shared outcomes. Hence, adopting a new mantra from the original proverb, "If you want to go fast and far, work together". This perspective placed a focus on collaboration, and it became the rallying cry of the project.
Determining the Best Solution for the Footprint
The space available within the existing manufacturing site was constrained by the need to maintain current production demands. The footprint available required both an extension to a current building and a deep "cut and carve" into existing operational facilities with incremental decanting of on-going technical and operational capacity within other smaller available areas on the site.
The selected site challenged available space for construction infrastructure and municipal approvals on noise and environmental drainage and separation. To overcome these obstacles, the team worked extensively with the local municipalities through expansive review sessions to agree on pragmatic solutions.
Initially, the adjacent fallow area of the site was identified as ideal. However, the on-going production needs would have been restrictive, and that footprint was identified as more suitable for a next phase expansion opportunity. Hence compromises around the chosen site were accepted. However, the new space selected had challenges of its own which caused the entire design philosophy to change from RABS to isolator-based vaccine filling technology.
Unique Design and Project Execution Solutions
What sets this project apart is the creative design solutions that not only expertly made the smaller space so functional and efficient that there was leftover space, but also how risk was mitigated so a portion of the detail design could be issued before the rest of the facility design was complete so construction could begin sooner.
The uniqueness of this particular project flows around the capital cost, schedule, and spatial constraints. The team realised a project which stands apart in delivering against all of these objectives in an innovatively collaborative way would set new benchmarks for similar projects with technically challenging aseptic processing environments.
To meet time constraints, equipment vendor designs were expedited and the engineering, design, procurement, buying, construction, and qualification phases were vertically stacked on top of each other. This type of structure required a robust, strategic, and thoughtful risk-management strategy.
The requirement for the high-speed filling of complex, fragile molecules with small bulk volumes and minimal product losses drove new approaches to find proven technology clustering to achieve the desired outcomes. The result is a facility that seamlessly integrates "Best Available Technology" to deliver cost-effective and operationally efficient fill and finish capability.
World-Class Project Results
The management team led by example with transparency and compassion. They were focusing on creating a unified, happy, and safe working environment by providing consistent and clear communication and utilising engagement surveys. The culturally diverse team leaned into their differences to collaborate on creative, cross-departmental and organisational risk management design, construction and validation solutions.
Through careful planning and excellence in project execution, the team delivered a 3-floor, 36,390m2 (39,180sf) facility in 30 months from the start of detailed design through to OQ completion, encompassing several regulatory challenges and spatial redesigns to minimise material transport routes, yet retain flexibility, containment/BSL levels.
The technological solutions and outcomes have been welcomed by the operational team and drawn praise from regulators and the manufacturing team.
The capital cost of the project, measured against industry standards for similar facilities, demonstrate TIC value at an estimated 80% of expected norms, adding value to Bavarian Nordic's business and leveraging value down the supply chain and ultimately resulting in a lower cost of the product to the patient.
The success of the project has led to subsequent facility investments currently being undertaken with the same supply chain project partners, building on lessons learnt and leveraging working and team practices to target further incremental improvements in schedule and TIC delivery.
1) Uniquely Collaborative Cross-Cultural Team
The project needed a strong and innovative environment where everyone felt empowered to work collaboratively to capitalise on individual and organisational strengths. The fact that the team rose to the challenge and embraced this, and are now building further on this in a subsequent project, bears testament to how the team worked together to collaborate in "high-touch, low-tech" ways such as whiteboarding, visual management and team feedback mechanisms. Minimising "man-marking" and investing time in trusting each other to achieve, whilst peak lopping the key challenges offline with a dedicated small team, invigorated the team and facilitated smooth progress of the bulk of the design and management effort. Management led by example to not just overcome, but embrace cultural and technical differences. An emphasis was put into continually enhancing the team's morale and safety through transparent and frequent communication, whiteboards, surveys, incentives, and fun team-building work events.
2) Innovative Piping Solutions
Designing and constructing a complex piping system, with initial disconnects on strategy, supply chain capability, and significant space constraints was a recognised challenge at the outset. Challenges were openly reviewed and then moulded into new solutions which embraced the best each party had to offer. Reaching across geographical and cultural divides and "push/pulling" information both at the earliest available date and the last responsible moment led to a restructuring of the design and erection sequences. This included strategies for basement pipework which created challenge early in the construction sequence, but facilitated clear workfaces, hence improved overall progress later. Offsite manufacture of skid-based piping modules led to further acceleration and streamlining of installation in the key service provision areas of WFI and clean steam generation and distribution.
3) Ability to Design a Creative Solution for the Limited Footprint
The available footprint for the functionality required was a key challenge. The team worked with the local municipality to facilitate temporary relaxations to spacial and height restraints. This allowed the required laydown and construction functionality to exist, then capitalised on supply chain integration into a just-in-time delivery and installation sequence, with a series of temporary works to streamline and parallel testing and OQ work.
A combined process architecture and operational team fast-tracked a squad review early on to facilitate a working layout which offered all the required functionality with novel approaches to material and people movements, minimising inventory which led to an early fix of layout which all were happy with. This technical collaboration was made all the more outstanding when we reflected on the complete 180-turn from RABS to isolator technology in the early formative stages of the project – and required excellent interface and agility between the project team and regulators.
4) Unique Design Solutions
All projects have design challenges. However, what made this project unique from a design execution perspective was all of the wider project variables pulling in the opposite direction to the development of a conventional fill and finish design, for example, space constraints, noise limitations and schedule demands. For instance, the overall space constraints led to the design of a smaller than normal filling room which resulted in a theoretical prediction of an overheating issue. Filling line and HVAC experts from the US, UK, Denmark & Germany worked collaboratively to implement a smart solution, based on CFD modelling of the filling room, to ensure adequate air distribution and enable the room conditions to be validated accordingly. Another example related to the local Danish noise limitations and reinforced the old adage that 'all bases of a project need to be covered to allow the product to be manufactured.'
5) Ability to Meet the Very Short Timeline Despite Pivoting to a New Design Philosophy
From the outset, the timescale was critical, and everyone in the team focused on this during workshops. Together, the team delivered "the impossible" with a 30-month programme to end OQ and at a capital cost within 80% of comparable industry benchmarks.
This could only be achieved through empowered team management which added risk but capitalised on individual and organisational excellence. They levered the expertise of Syntegon and IMA to stretch the boundaries of acceptability and add value by leveraging supplier qualification advantage; hence eliminating rework and saving time. This same strategy was reflected throughout the equipment supply chain where flexibility to using standard proven solutions and adapting user requirements was a core functionality which led to offsite validation saving time in the construction and startup phases.
Client Name: Bavarian Nordic
Regions: EMEA, Americas
Country: United Kingdom, Germany, Switzerland, United States
Office: Basel, Birmingham, Frankfurt, Blue Bell, PA
Image Gallery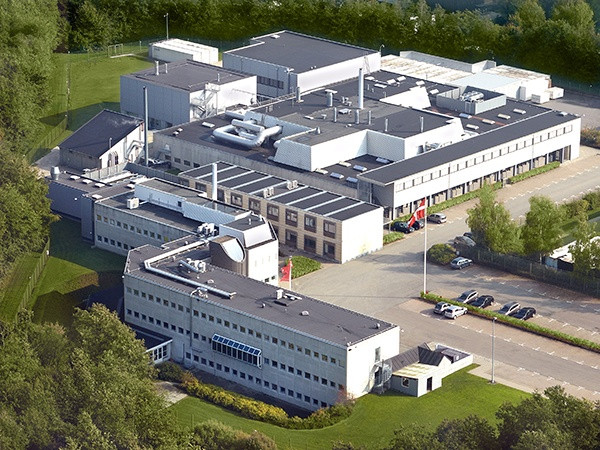 View Gallery