Government
IPS provides fully integrated Engineering, Construction, Commissioning and Qualification services and our technical consulting expertise to County, State and Federal agencies. We have successfully executed numerous challenging projects throughout the United States.

As part of our work with government agencies, we design, engineer, build and commission a range of hi-tech, high performance facilities. In addition to outstanding architectural and engineering services, we provide strategic and logistics planning, energy consulting, capital management, operational improvement and procurement strategies.
We have successfully completed projects including a municipal complex, railroad infrastructure, military base operations, infectious diseases research laboratories, animal holding facilities, laboratories, high-end electronics labs, mechanical space, utility renovations and chemical storage areas.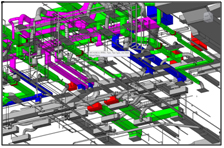 For an armed services installation management command garrison, we developed a comprehensive, detailed plan of design, demolition and construction approach, as well as construction management for the renovation of a 2,000sf one-story, concrete slab-on-grade, steel-framed structure. Existing space consisted of OPS 3 laboratories, storage rooms, transport closets, electrical room and a data center. Laboratory renovations included cGMP space and explosive hazardous areas within an occupied building. This project required phased construction and relocation of utilities with minimal disruption to an active site.