Award Winning Knowledge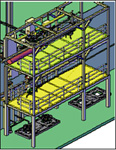 We provided our design and process expertise for a major upgrade for a Large-Scale Manufacturing Technology Map Project., including modifications to the cell culture, harvest and purification areas. The finished facility provides a 300% increase in yield over previous production output and was awarded the 2010 Facility of the Year, Operational Excellence.
Biotechnology: Taking Technology to Production
With technical expertise spanning R&D to pilot-scale and large-scale production, our team knows the technology, trends and regulatory environment to successfully deliver your project. Our unique approach and technical expertise enables us to significantly improve operational capabilities, throughput and process control, optimize cost and minimize risk.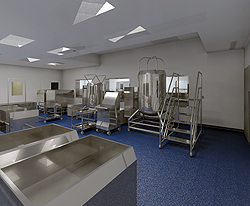 Biotech / Bioprocess Expertise
Flu Egg Vaccine Production
Bioprocess Modeling, Optimization & Debottlenecking
Utility Demand Profiles
Upstream / Downstream Processing
Fermenter Equipment Design
Traditional and Single-Use Technologies
Media and Buffer Prep
Bioreaction Systems
Separation and Purification Operations
CIP / SIP Systems
Scale-Up / Equipment Modification
Contamination Consulting
Manufacturing Operations Consulting
Control System Design / Integration
Batch Process Simulation

Process Scope Development
PFDs and P&ID
Process Architecture
Process Instrumentation & Delta V
Cell Culture and Microbial Fermentation
BSL & ABSL 2 / 3 Facilities
BIM / 3D Piping Design & Isometrics
Risk Assessments & HazOp Reviews
Superskid & Module Design
URS & Equipment Specifications
Central Utility Plants & Equipment
Process Gases Generation
Biokill & Process Waste Systems
System FAT & Procurement
Utility Energy Optimization
Total Cost of Ownership Comparison
We have working experience with a wide range of products including vaccines, protein therapeutics, whole cell products, industrial enzymes, vitamins, organic acids, amino acids, DNA products and flu egg production.
Examples of successfully completed projects include installation of cell culture reactors, Greenfield clinical manufacturing of cell culture and fermentation products, clinical facility for stem cell production, commercial fermentation manufacturing expansion, vaccine pilot plant, flu and pandemic H1N1 vaccine adjuvant, upgrades to allow the use of isopropyl alcohol in downstream processing area, start-up, engineering and commissioning of a bulk bio facility, installation of 5 new bioreactors and a Greenfield vaccine manufacturing facility using roller bottle technology.
Our team is comprised of dedicated industry experts with operating company experience.
Dave Wareheim, a published author and presenter on cell culture and SU systems, is a driving force toward SU systems in the industry. He led the effort for streamlining downstream processing and, as co-inventor, was instrumental in a patent submission and design/build of the first ever system.
Gerald Cerulli, PE is an expert in executing process intensive projects in 3D. His experience and efforts won the 2010 Facility of the Year Award for a large-scale manufacturing high titer manufacturing project.
Mark Witcher, PhD is experienced in development strategies, process development, facility operations, manufacturing strategies and cost of goods estimates. For a major biotechnology company, he was a key member of the team that designed, engineering, constructed, staffed and validated a biotech manufacturing facility for a blockbuster drug and successfully shipped bulk product in less than two years.
Jeff Odum has been involved in managing conceptual design, detailed design, preconstruction, construction, start-up and validation support for biotech projects ranging in size from $1MM to more than $2B.
Our team also is well represented within key professional societies and committees such as the ASME Bioprocess Equipment Committee and the ASME Bioreactor Task Group.