Award Winning Knowledge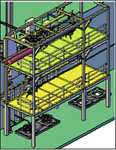 We provided our design and process expertise for a major upgrade for a Large-Scale Manufacturing Technology Map Project., including modifications to the cell culture, harvest and purification areas. The finished facility provides a 300% increase in yield over previous production output and was awarded the 2010 Facility of the Year Award, Operational Excellence.
Taking Technology to Production
With biomanufacturing technical expertise spanning R&D to pilot-scale and large-scale production, our team knows the technology, trends and regulatory environment to successfully deliver any sized project. Our unique approach and technical expertise enables us to significantly improve operational capabilities, throughput and process control, optimize cost and minimize risk.

Bioprocess Expertise

Cell Culture Process

Flu Egg Vaccine Production

Traditional / SU Technologies in Cell Culture

Process Capacity Modeling / Simulation

BL2+ / BL3 Facility Design

Total Cost of Ownership Comparison

Project Experience

BL2+/BL3 Facility Design

Since 1992, we have successfully completed vaccine and research facilities design for a variety of viruses, including:

anthracis bacillus

pneumonia / meningitus

meningococcal A / C / Y / W

varicella

MMR

papillomavirus

staphylococcus aureus

staphylococcus polysaccharide conjugate

Influenza H5N1

HIV

small pox

IPS Biotech Experience
Our team is comprised of dedicated industry experts with operating company experience.
Tom Piombino, PE has focused primarily on biologics and vaccine facilities, including advanced facility design and technologies for bioprocessing. Tom leads the IPS bioprocess leadership team and interfaces with clients as a SME, assisting with the integration of bioprocessing equipment, cGMP's and advanced facility design initiatives.
Tim Schuster is a well-known expert in the biotechnology industry and offers extensive experience in bioprocess engineering, project management and facility and critical utilities systems worldwide.
Expert Insight
Multimedia
Publications
"Biomanufacturing Trends & Technologies", INTERPHEX Blog, February 2014
"Risk Assessment for Single-Use Disposable Projects", Contract Pharma, January/February 2014
"Facility of the Future: Next Generation Manufacturing Forum: Part 3": "Identifying Facility Requirements Based on Specific Business Drivers and Uncertainties Using the Enabling Technologies", Pharmaceutical Engineering, May/June 2013, Vol. 33, No. 3
"Biomanufacturing, The 4th Decade: The Sky's the Limit", Pharmaceutical Processing,April 2013
"Facility of the Future: Next Generation Manufacturing Forum: Part 2: "Tools for Change-Enabling Technologies and Business and Regulatory Approaches", Pharmaceutical Engineering, March/April 2013, Vol. 33 No. 2
"Facility of the Future: Next Generation Manufacturing Forum: Part 1: "Why We Cannot Stay Here" – The Challenges, Risks, and Business Drivers for Changing the Paradigm," Pharmaceutical Engineering, January/February 2013, Vol. 33 No. 1
"Biopharmaceutical Manufacturing in the Twenty-First Century - the Next Generation Manufacturing Facility", Pharmaceutical Engineering, March/April 2012, Vol. 32 No. 2
"NextGen Biomanufacturing: Developing the Manufacturing Facility of the Future", Pharmaceutical Processing, March 2012
Single-Use (SU) Systems. Encyclopedia of Industrial Biotechnology (Wiley & Sons, Ltd.), April 2010